The first trace of productions of Murano glass chandeliers by Venetian glassmakers date back to around 1700.
Since the early 13th century, Venetian glass has been widely appreciated as the the most beautiful and purest glass in existence and since then glassmakers had had always created beautiful works of art using their unique glass.
At the end of 1700 they finally introduced new products slike glass mirrors and chandeliers. In history these type of chandeliers made of glass became popular after the iron, wood and brass chandeliers era, and were so successful that they instantly brought chandeliers into a new dimension.
Murano glass production in the 18th century found a new energy to counteract the emerging competing manufacturers that began to spread on the market as Bohemian crystal.
Bohemians and Venetian glassmakers were both masters in the art of making chandeliers. The Bohemian style was very successful throughout Europe and was also popular in some parts of Europe. was also popular in parts of Italy.
Its greatest attraction was the possibility to achieve spectacular light refraction thanks to the facets and bevels of crystal prisms.
As a reaction to these new tastes, Murano glassworks created new types of artistic light sources.
The first example of a Murano glass chandelier was produced specifically for Frederick IV of Denmark, which still hangs in his palace today.
The King went to Murano in 1709 to acquire the chandelier which appears in his inventory of 1718 together with other Venetian glassworks.
As Murano glass was not perfect for faceting, a normal work used at the time in other countries where crystal was produced, Venetian glassmakers relied on the unique qualities of their glass.
Typical characteristics of a Murano chandelier are the intricate arabesques of leaves, flowers and fruits that would be enriched by coloured glass, made possible by the specific type of glass used in Murano.
This glass they worked with was so unique in that it was soda glass (famous forits extraordinary lightness) and was in complete contrast to all the different types of glass produced in the world at that time. An incredible amount of skill and time was required to twist and shape a chandelier with precision.
This new type of chandelier was called a 'ciocca', literally a bunch of flowers, because of the characteristic decorations of polychrome glazed flowers.
The most sumptuous of these chandeliers consisted of a metal structure covered with small, transparent elements in blown glass, transparent or coloured, with decorations of flowers, fruits and leaves.
Their shape was inspired by an original architectural concept: the space on the interior is left almost empty as the decorations are scattered all around central support, spaced out from it by the length of the arms.
One of the common uses of the huge Murano chandeliers was the interiorl ighting of theatres and halls of important palaces.
Giuseppe Briati was the most famous manufacturer of these chandeliers.
REZZONICO CHANDELIER OF GIUSEPPE BRIATI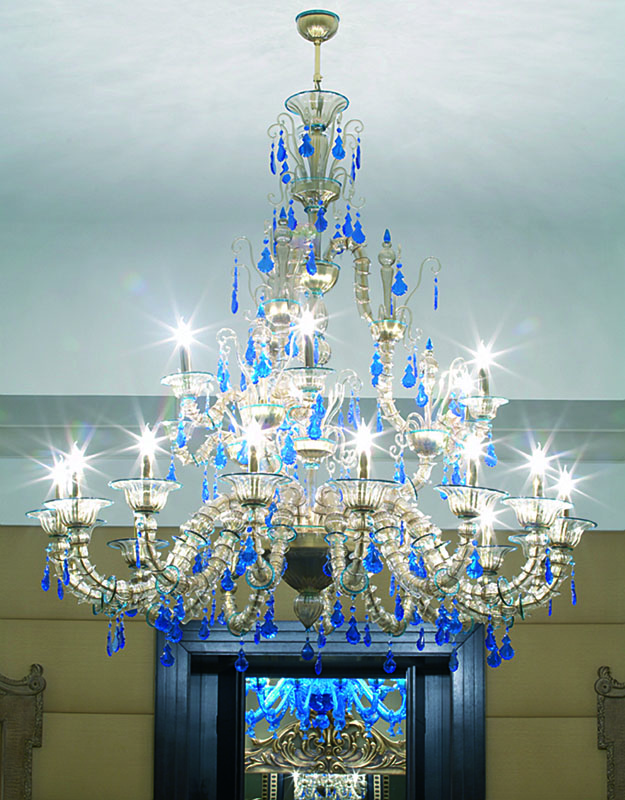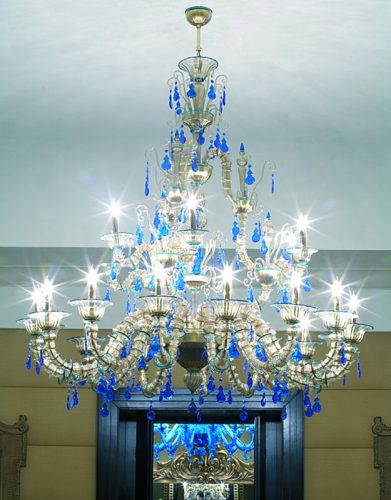 Giuseppe Briati was a famous Venetian glassmaker who concentrated his work on creating chandeliers with several arms decorated with garlands, flowers and leaves. called "ciocche".
Born in 1686 on the Murano island into a family of traditional glassmakers he probably had the opportunity to work in a Bohemian glass factory, where he learned the secrets of crystal working, which at the time was taking over the leadership of Venetian glass in the European market.
Briati has certanly contributed strongly to improving the beauty and reputation of Venetian glass, which after experiencing a period of success, had declined sharply.
His furnace became famous for producing Bohemian-inspired glass with a touch of eccentricity, which through colours and decorations gave them the appearance of a triumph of polychrome flowers.
Despite fierce opposition from his fellow citizen, Briati also introduced a production of glass with a chemical composition similar to that of Bohemia in an attempt to combat the competition, without reducing his works to mere imitation.
Giuseppe Briati created what is now called the Rezzonico Chandelier, named after his first chandelier. name derives from the first chandelier of its kind, representing the classic Murano chandelier.
It was designed by Briati for the noble Venetian family Rezzonico and hung in their palace along the Grand Canal, now a famous Venetian museum with the name "Ca' Rezzonico".
This type of chandelier, made entirely by hand, required special worked by glassmakers because of the arms formed by many small pieces of glass. pieces of glass.
Each glass shape had to be masterfully executed because any outsized piece would not fit between the others.
The chandelier "Rezzonico" is the typical expession of the ability of Venetian craftsmanship to adapt the production and offer new and innovative solutions to changing architectural needs.
MURANO GLASS CHANDELIERS NOW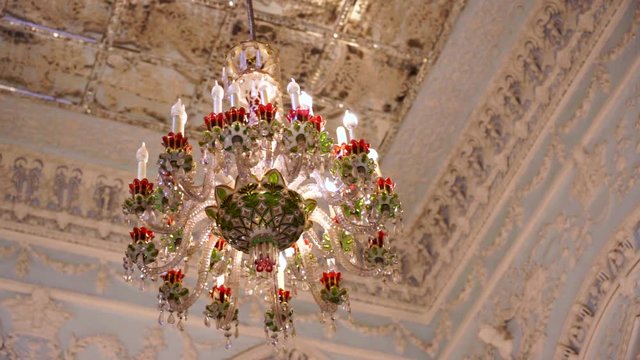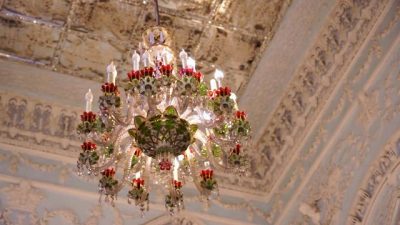 After their widespread success in the 18th century, in 1797 glass production in Murano fell abruptly with the occupation of the Venetian Republic by Napoleon's armies. Many of the glassworks closed and the production of Murano glass chandelier stopped.
It was not until the middle of the 19th century that glass production in Murano was resumed and the products of its art, including chandeliers, became popular still.
Murano glass chandeliers have a unique history and continue to be produced in Venice today, thanks to the success that makes them one of the Venetian glass's most popular and appreciated products.
These amazing and lighfully murano glass chandeliers became popular after the wood, brass and iron era of chandeliers, instantly redesigned a new fashion to the idea of chandeliers.
Today they are widely requested as one of the most precious and decorative types of chandelier.
Special Products
€

5.279,00
Catalog Price
USD

:

5,532.38 $

GBP

:

4,520.62 £

CAD

:

7,220.93 $

RUB

:

323,725.17 руб.

AUD

:

7,987.29 $

INR

:

₨431,157.59
Murano Art Glass
€

5.279,00
Catalog Price
USD

:

5,532.38 $

GBP

:

4,520.62 £

CAD

:

7,220.93 $

RUB

:

323,725.17 руб.

AUD

:

7,987.29 $

INR

:

₨431,157.59